Cosmetics
Miessence Organic Cosmetics
Our makeup range of natural products eliminates many makeup problems such as: skin irritation from chemical build up, chunky color in the creases of your skin, unnatural finish, clumping and uneven skin tone.
The Miessence range of organic makeup is designed to nurture and rejuvenate your skin, not damage it like other makeup can.
Mineral based translucent foundations, with natural sunscreen, concealer, translucent powder, bronzing dust, and mineral foundation powders using only, pure, refined minerals. No nano-particles, no dimethecone coatings and no titanium dioxide is ever used in Miessence mineral based cosmetic products.
Creamy formulas with intense natural color blends from pure mineral pigments. Matte for the lip cremes and subtle shimmer for the shimmer creme. Shimmer Creme can be used on your lips and cheeks. Lip balm for soft, kissable lips.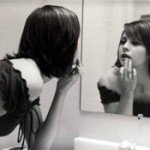 Mineral based blush powders using only pure, refined minerals. Matte colors for daytime use (Silk) or shimmering colors for glistening evenings (Satin).
Miessence organic mascara builds thick, supple healthy lashes.
High quality brushes for application of lip cremes, mineral foundations, mineral blush powders and clay masks.
Not sure about the color? Order a sample and give it a test run